LandTech has Moved!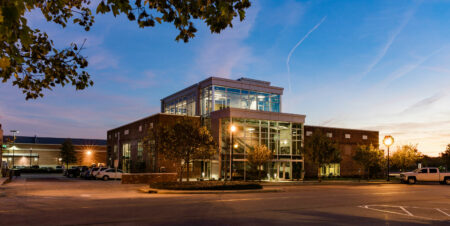 LandTech is proud to announce that we have a new address!
We have relocated our offices to The Congaree Vista at 522 Lady Street, Suite 200, Columbia, South Carolina. All our contact information has remained the same.
Our new location is a former warehouse that has been totally renovated in a modern design of historic brick, glass, steel and exposed beam architecture. On the roof of the building, a conference center with meeting rooms and roof deck overlooking the Vista has been developed. Other tenants of the building include McCrory Construction, a major Columbia-headquartered construction firm and Lambert Architecture and Construction Services.
As a company, we are thrilled with the renovations and the preservation of the character of our historic warehouse building and we are equally thrilled with our new location in the heart of The Vista.
Located along the banks of the Congaree River, the Congaree Vista is a historic warehouse district once filled with textile mills and railroad stations that has been undergoing a brilliant renaissance in development and activity for over two decades.  "The Vista," as it is known by locals, is one of South Carolina's most vibrant arts, dining, business and entertainment districts with many small, upscale shops, restaurants and luxury hotels, often in renovated warehouse buildings.  With over 45 restaurants and bars, 60 artists' galleries and specialty shops, and a diverse mix of businesses and services, the Congaree Vista offers an array of choices all in one convenient City district.
It is also one of the Columbia's most vibrant residential, commercial, lodging, and cultural offerings. Many forms of downtown living options are springing up such as student housing, apartments, condominiums, etc. – all with an eclectic, downtown vibe.  Luxury national and boutique hoteliers have also discovered the Vista with the opening of the modern and expansive Columbia Metropolitan Convention Center. The area's proximity to the University of South Carolina, Columbia's downtown business district, the State Capitol complex, and its position overlooking the Congaree River, make The Vista the ideal place to visit, live, work and play.